Who is it for?
Beginner

Practicing
Technicians

Permanent
Makeup Pro
For Beginners: We start with the basics and provide fundamental teachings and information that benefits every student.
For PracticingTechnicians and Experts: Upgrade the level of your skills with Nadia's custom techniques, or add a brand new skill to your list of services. Network with other professionals and perfect your mastery of lash extensions.
YOu` ll learn:
Classic Lash Extensions: 1D to 2D
Original Russian Volume: 2D to 8D training
5 methods of applying Kim's Effect Lash Extensions
Kim's Effect for Asian eyes
Mixing black + brown lashes for Kim's Effect
More than 20 ways to style Kim's Effect and other Volume sets
Different effects: Cat, Doll, Round + more!
Layering techniques
Transition techniques
Working with lash rows
Proper application for thin and sparse lashes
Mixing different curls
Combination of thicknesses
Length variations
Lower lash application
Removal techniques
Refills
Correct adhesive handling
Secrets of long lash wearing
Potential Eyelash Extensions specialist income — from Beginner to Master:
Your
experience
Initial
procedure
Touch-up
Clients
per day
Monthly
Yearly
Begginer
Less than
1 year
250$
150$

3

12 000$

144 000$
Master
1-3 years
300$
200$

4

20 000$

240 000$
Expert
More than
3 years
500$
300$

4

32 000$

384 000$
Your experience
Less than a year
Less than a year
Less than a year
Initial procedure cost
100$
200$
300$
Touch-up cost
350$
600$
1000$
Yearly earnings
108 000$
384 000$
936 000$
Some of Our Success Stories
Our students don't just learn technical Microblading skills, but they also gain the Business and Marketing skills needed in order to build their very own brand, and open or grow their business in the Beauty Industry!
Be your own boss!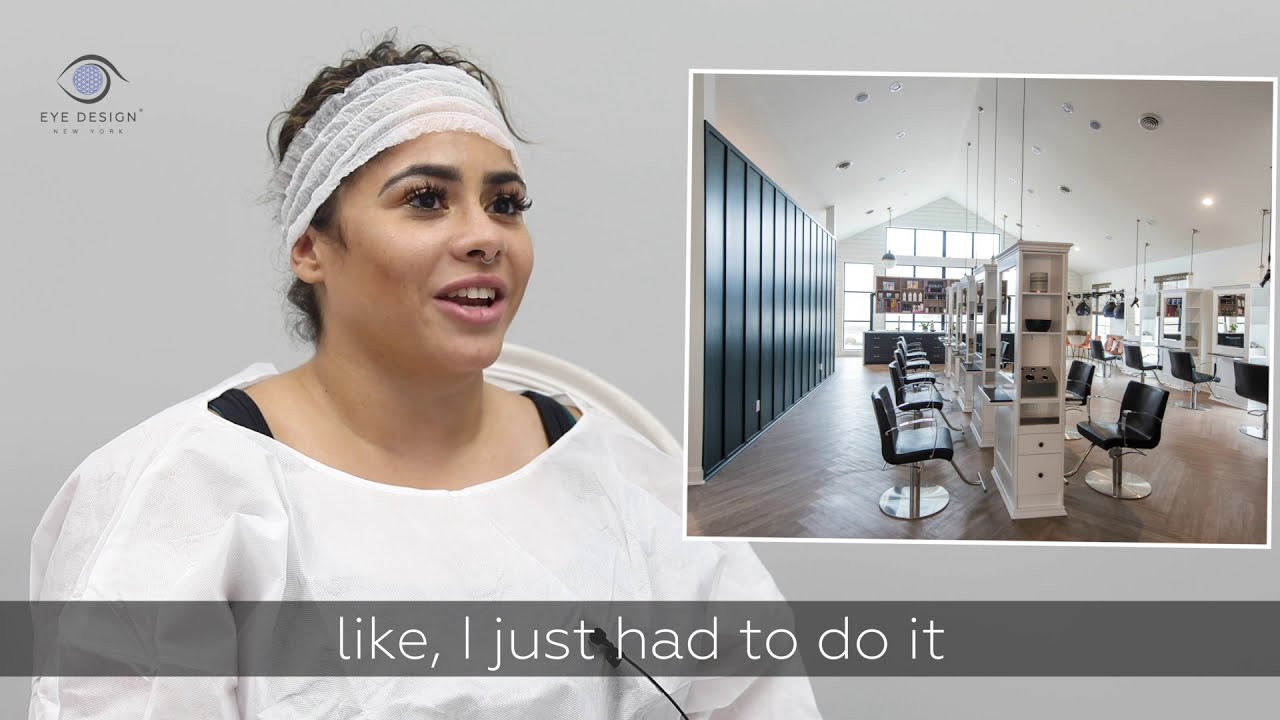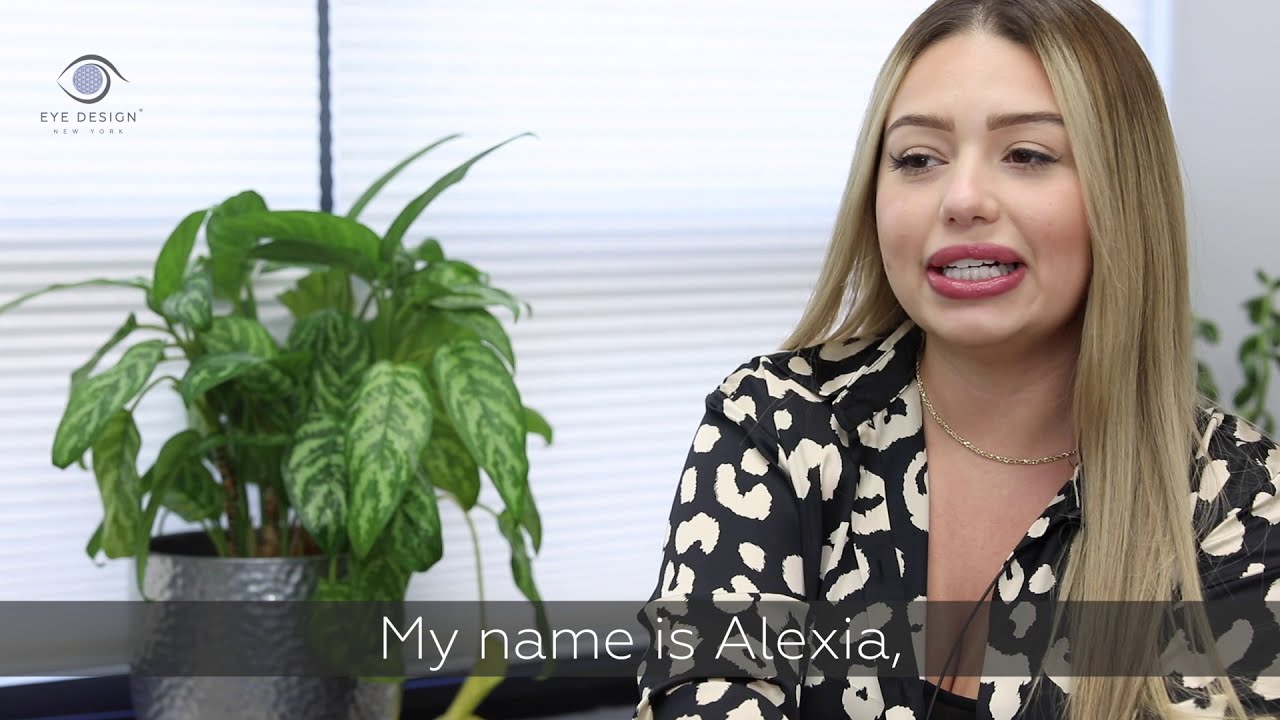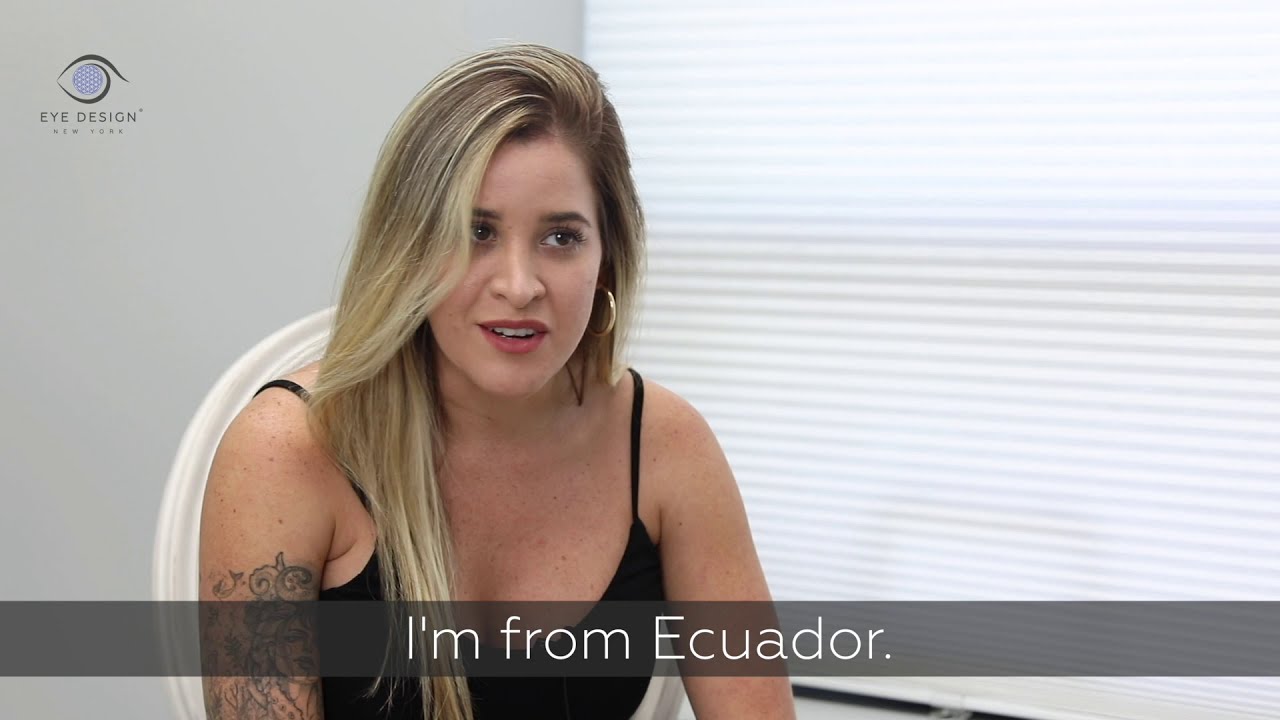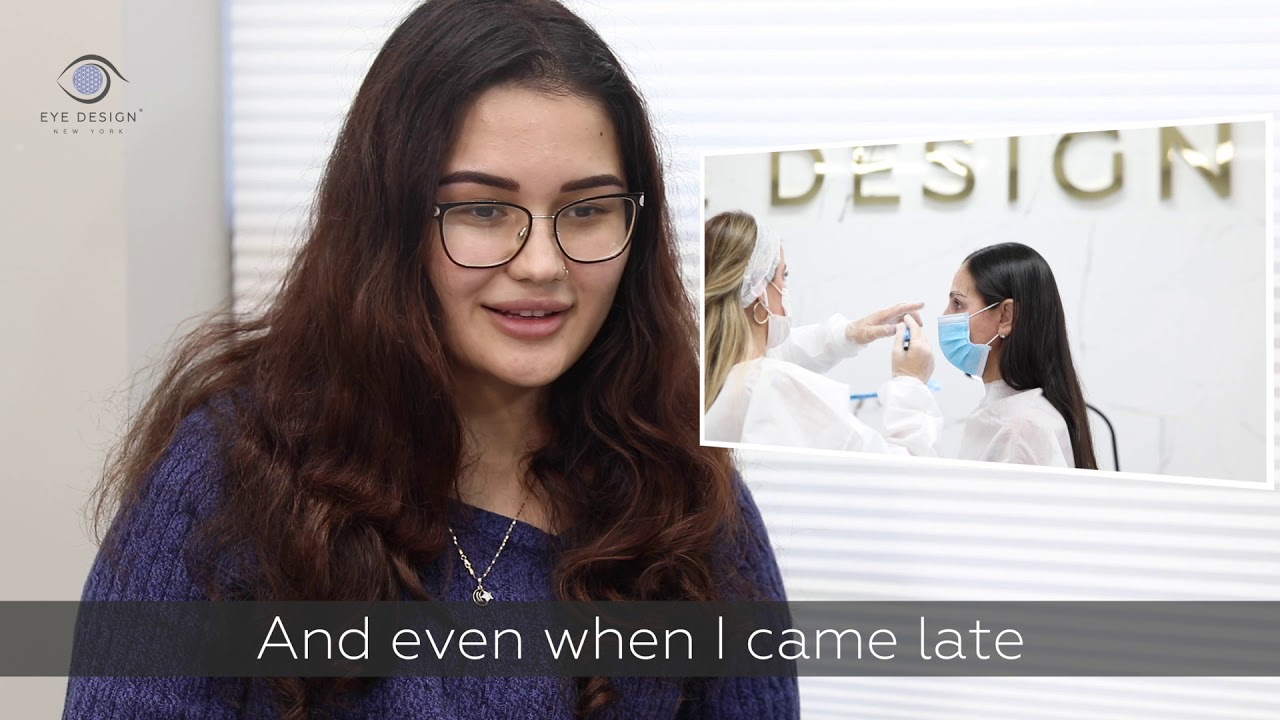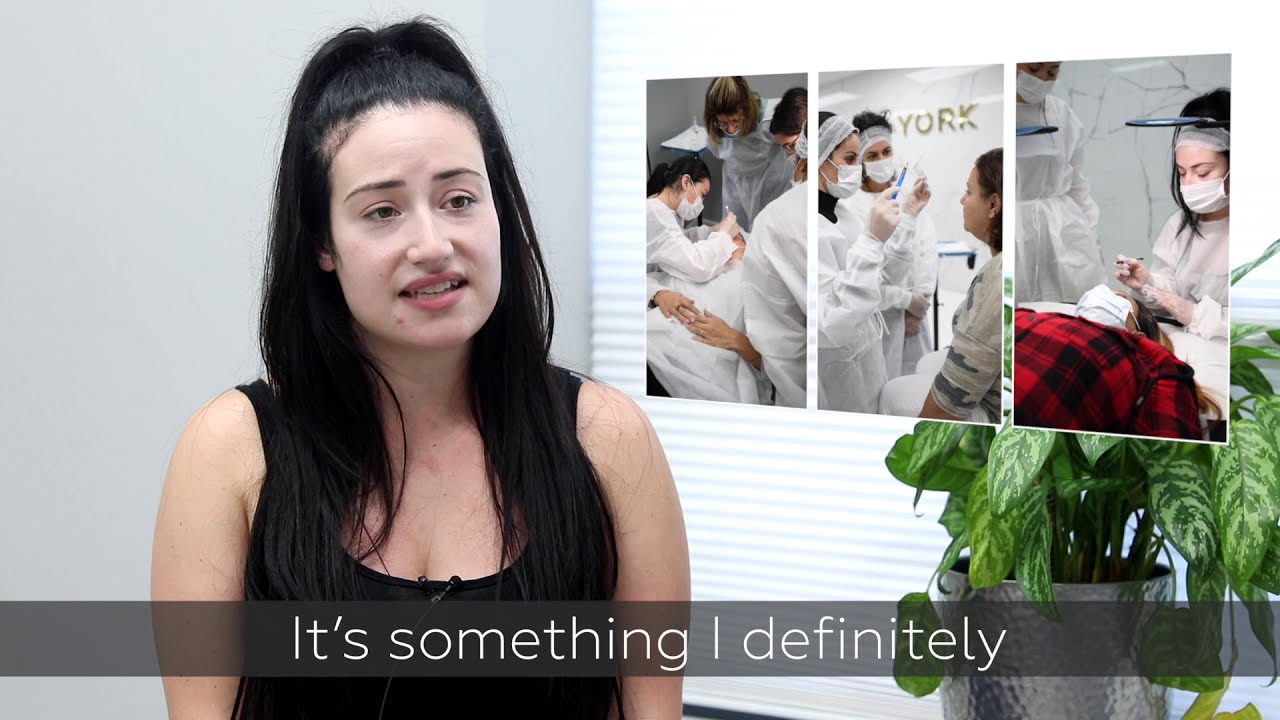 Why take the Volume Eyelash Extensions class from Eye Design?
Students from all over the world

For 4 years running, we have trained and equipped more than 5,000 students to become successful beauty professionals!

Unlimited Training Courses

If you're not entirely satisfied with your skill level after the class, we'll allow you to retake the class again – absolutely FREE OF CHARGE!

FREE Professional Eyelash Extensions Kit

Valued at $300 and can be used on up to 50 future clients!

Learn more

A Lifetime of Support

Once you join our Eye Design family, all students are eligible to receive continuous feedback for life from their instructors; facilitating consistent progression in your Eyelash Extension skills!

Personal trainer

You will be mentored directly by Nadia Afanaseva, founder and Lash Extensions Master, who has performed over 12,000 client procedures!

Globally Accredited Certification

Upon completion of the course, you will receive a certificate from the world-class beauty brand based in Manhattan, Eye Design New York — an internationally recognized and accepted accreditation!

Practice on Live Models

Get the opportunity to practice on 2 Live Models provided for you in the class!

Exclusive Discounts on Lash Extension Supplies

Eye Design offers all students up to a 20% discount on all supplies and products they need!
0$> 10%, >500$ 15%, > 1000$ 20%

Enjoy Benefits on Other Eye Design Classes

If you sign up for any other Eye Design classes you will receive an exclusive 10% discount!
meet with our your personal trainer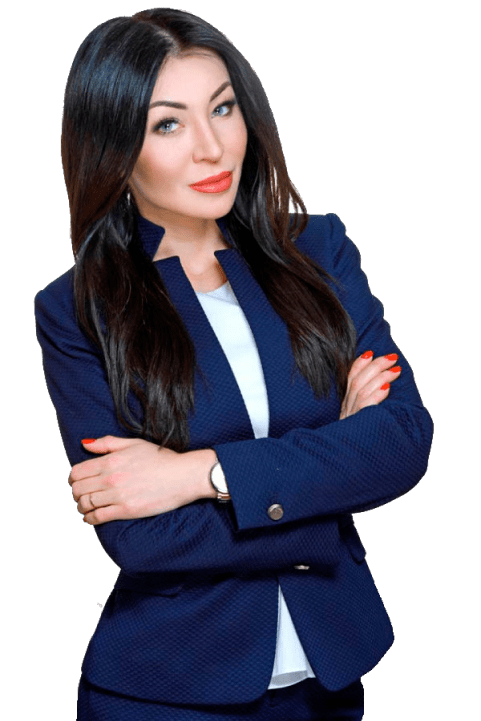 Nadia Afanaseva
Founder & CEO Eye Design New York
More than 10 years in beauty industry
Founder of 2 pmu and lash extensions studios, university and professional store
Taught more than 5,000 students in Eye Design University
Increased her profits from $0 to $1m in just 3 years!
Went from unknown IG page to celebrity verified check sign
learn from industry champions
2011

WINNER of first world competition on lash extensions in Russia, St. Petersburg

2012

CREATOR of the world-known lash extensions set, KIM'S EFFECT

2013

WINNER of 2 first places in the international competition in Moscow on Volume Extensions

2014

JUDGE at the first American lash extensions competition in Chicago

2015

JUDGE at the second American lash extensions competition in New York
Class Agenda
Setting up your workspace
What are Volume Lash Extensions?
Benefits of Volume Lash Extensions
Meeting a client: The Consultation process
Effects: Cat, Round, Fox, Doll etc.
Lash thickness, length, and curl
Eye and eyelash anatomy and physiology
Types of eyelids
Correct lash placement
Required tools and supplies
Disinfection and sterilization
Proper assessment of a client's eye health prior to Eyelash Extensions application
Environmental factors and ideal settings for Eyelash Extensions application
Sanitation and hygiene regulations for the Lash Extensions process

Classic Natural sets (1D-2D)
Volume sets (2D-8D)
Distance and bonding
Fan techniques
Random lash placement
Consistent lash placement
Transitions
Volume layering techniques
Lower lashes
Learn effects and styles that will cater to each individual client
How to make recommendations to your clients based on their natural eyelashes, eye area, and general health
How to select and customize looks based on a client's physical attributes and lifestyle
Refills and touch-ups
Common eye diseases and allergies
Mannequin practice utilizing different Lash Extension types, diameters, curvatures, and lengths

Complete 1 full lash application of a Classic Natural set (1D-2D) under the supervision and guidance of your instructor
The difference between Russian Volume, Kim's Effect and Modern Lash Style
What is Kim's Effect?
History of Kim's Effect
The original Kim's Effect technique
Pros and Cons of Kim's Effect
How to create Kim's Effect
Lash rows
Modern Look
Benefits of Modern Look
How to create Modern Look
Delicate Look
Benefits of Delicate Look
How to create Delicate Look
Airy Look
Benefits of Airy Look
How to create Airy Look
Kylie Look
Benefits of Kylie Look
How to create Kylie Look
Fluttery Look
Benefits of Fluttery Look
How to create Fluttery Look
Effects: Natural, Cat Eye, Doll, Honey Bee, Dramatic, Fox, Bambi, Sexi, New Queen

Complete 1 full lash application of a Volume set under the supervision and guidance of your instructor

Certification
Cocktails
Photoshoot
Certification
Internationally Recognized Certification
You'll be awarded an exclusive certificate from Eye Design — a prestigiously acclaimed beauty school and studio based in Manhattan, New York.
FREE Eye Design
Eyelash Extensions Professional Kit:
The total kit is valued at $300, and it can be used on up to 50 of your prospective clients!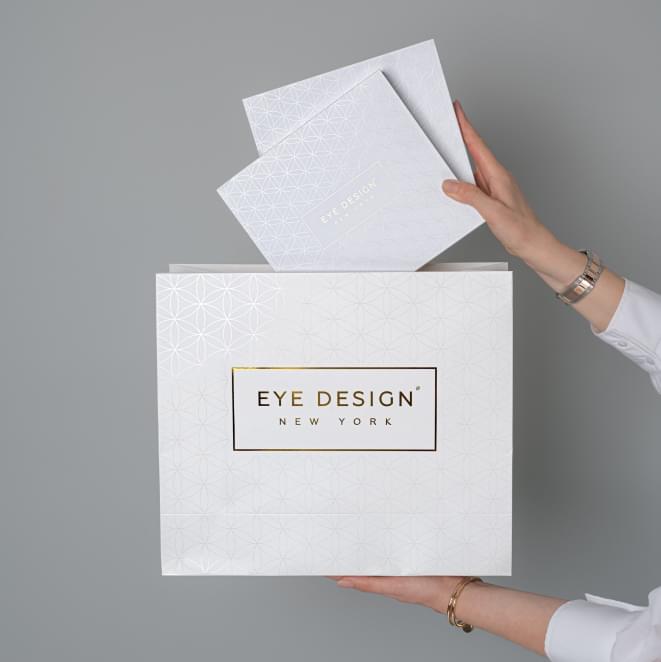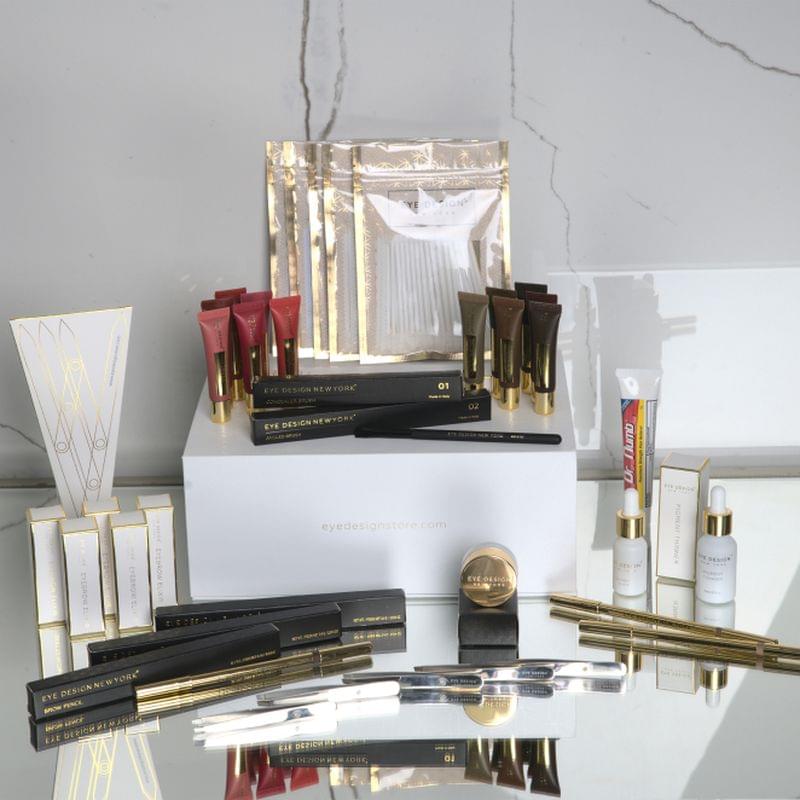 PRE-DRAWING AND NUMBING PRODUCTS
$ 15.00

Lash Extension Primer to prepare lashes for extensions and assure the best adhesion

$ 20.00

Lash Extension Cream Remover to remove existing lashes before applying a new set

$ 40.00

Platinum Lash Adhesive for the lashes to stay on for up to 4-6 weeks 5ML

$ 12.00

Medical Grade Microfoam Tape to lift up the eyelids and see the natural lashes better
$ 15.00

Straight Tweezers with satin finish to divide natural lashes while doing extensions

$ 15.00

C-Shaped Tweezers with satin finish to pick up lash extensions

$ 15.00

L-Shaped Tweezers with satin finish to pick up lash extensions
$ 6.99

Glue Rings 1pkg

$ 5.99

Mascara brushes 1pkg

$ 5.99

Micro Brushes 1pkg

$ 5.99

Lipstick wands 1pkg

$ 12.00

Eyepatches 1pkg
More Bonuses
Bonus #1:

Detailed checklists on how to set up your Business account on Instagram

Bonus #2:

Get insider insights on how to build a highly successful business

Bonus #3:

Detailed checklist on how to take mind-blowing pictures for Instagram

Bonus #4:

Detailed PDF instructions on how to become a successful Eyelash Extensions Master
Photos of our Masterclass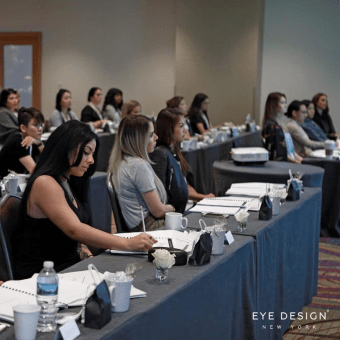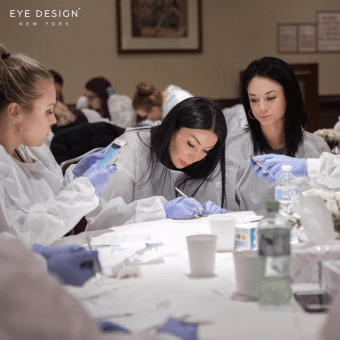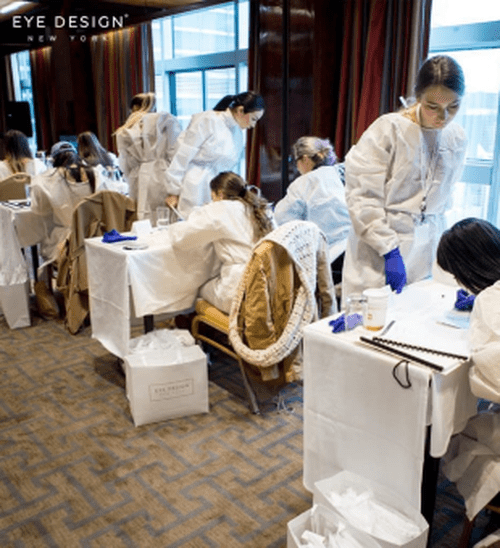 VIP CLIENTS
Yes Man Vice
James Charles
Sandra Oh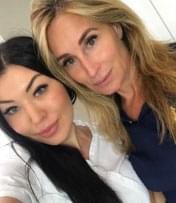 Sonja Morgan
Clara Pennington
Sasha Meneghel
LL Cool J's Family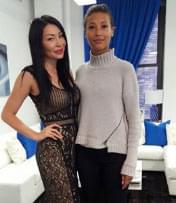 Aino Jawo
Simone I. Smith
LL Cool J's Family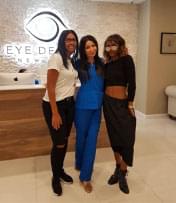 Magic Johnson's family
Yulia Zogoruychenko
We receive students from all over the world!
switch to USA map
switch to World Wide map
Australia
Germany
France
USA
Hungary
UK
South Africa
Italy
Brasil
Pouerto Rico
New York
Oklahoma
Washington
Arkansas
New Jersey
Tennessee
Vermont
North Dakota
Wisconsin
Texas
Pennsylvania
F.A.Q
Do I need experience to take the class?

No previous experience is needed. This class is perfect for beginners as we start from the very basics: Classic Natural set, and then move forward to Volume and Kim's Effect extensions.

How many students are there per class?

We keep our classes small to provide each student with individual attention. Our classes are between 4-8 people.

What if I do not feel confident after the class?

While we equip you with all the skills and knowledge required to begin practicing on your own, you can always reach out to us for support; or even retake the same class at no additional cost!

No license is required in order to take the class; but you might need to obtain a cosmetology or esthetician license in your state to be able to legally practice lash extensions on your own.

Are there any prerequisites to take the class?

No, there are no prior requirements to take the class.

Do you have beginner classes?

This class is perfect for beginners!

Do you have advanced classes?

This class is a combination of basic and advanced techniques; therefore lash professionals of all levels will find it both valuable and interesting.

Do I need to bring my own model?

No, models are provided to you by us.

Yes, we provide all the supplies you need for the class.

Do you provide a Lash Extensions kit?

Yes, we provide an extensive kit with supplies that you can use long after the class is over — enough to serve over 50 future clients!

How many instructors are there per class?

Based on the number of students in the class, we have additional instructors.

The class is located at 26 West Forest Ave, Englewood, NJ.

Do you provide transportation for the class?

Yes, we provide a complimentary shuttle from Manhattan to Englewood (and back) if requested.

Do you provide lunch or breakfast?

Absolutely! Eye Design provides breakfast, lunch, snacks and drinks at every class!

Will I learn Volume Extensions?

Yes, we will start with the Classic and move on to Volume on the second day.

What if I am not ready to work on a model?

Don't worry — the instructor will be there to guide and navigate you throughout the entire process!