Everything you need for Powder Effect is available now!
March 15 2019
·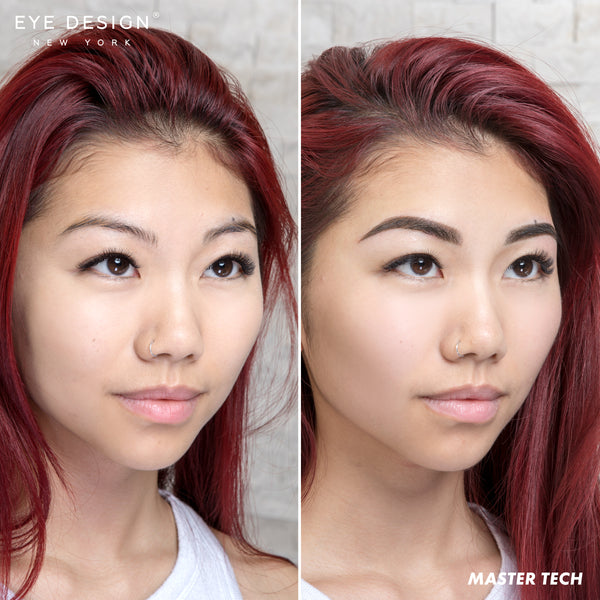 March 15 2019
·
Are you a semi-permanent makeup artist? A microblading technician? An aspiring beauty professional? Eye Design's online store has all the tools and supplies you need to create beautiful results for your models and clients.
Powder Effect, also known throughout the industry as microshading or shadow/ombré effect, is a semi-permanent beauty solution for clients who have medium-to-full natural eyebrow hair. It creates a gradient makeup look so clients can ditch their pencils, powders and pomades and wake-up with beautiful brows!
Because Powder Effect is a more gentle technique than microblading, it is suitable for one in three clients, making it the fastest-growing treatment on the market. This means that technicians who learn Powder can increase their income by 30 percent! You can check our studio for Powder/ombre permanent makeup procedure, it is very popular in New York City now.
Results can be as soft and subtle or as big and bold as each client prefers. With proper drawing and pigment application techniques, all semi-permanent brow treatments are customizable. Technicians should learn Eye Design's 5-point drawing method to ensure every client receives new brows that work in perfect harmony with the rest of his or her facial features. You must also remember to listen to your clients during the drawing portion of the appointment so you understand their personal preferences.
The technician's skills an experience level play a huge role in the results, but it is important to have quality tools. At Eye Design, we believe that products should perform beautifully for an affordable price! From pens to pigments and beyond, we have all the essentials for a successful Powder Effect procedure.
Coming soon: Permanent makeup machine tools
Unlike microblading, Powder Effect requires a small machine tool to apply pigment under the skin. (However, Powder can also be applied manually in between microbladed hair strokes for a Hybrid look.) These small machine allow for gentler, more comfortable pigment application, as well as quicker appointment times! They are a must-have for any semi-permanent makeup artist.
Eye Design offers two options. Our Digital Pen is great for technicians of all skill levels; it is ergonomic and easy to use. The Digital Machine follows the same concept, but it is more heavy duty. We recommend this tool for experienced techs only.
Available now: Powder Effect Pigments
After the success of our very own Microblading Pigments, Eye Design began developing a Powder Effect range using the same hypoallergenic mineral base. All six shades in this new lineup have a thin, water-like consistency that absorbs under the skin beautifully during Powder Effect.
We worked hard to develop six of the most natural-looking colors for clients of all skin tones and undertones. Just like our Microblading Pigments, our Powder Effect Pigments can be mixed in endless combinations to create the perfect customized color for every unique client. Eye Design also carries both ivory and black Correct Pigments to lighten or darken any base shade.
Add-ons
Mix pigments with ease and get the perfect blend every time with our ultra-affordable Pigment Mixer. If you are an expert at achieving an even mix by hand, then you will need to stock up on our Disposable Tray For Microblading/Powder Pigments. Each one features sections of different shapes/sizes so you can do what works best for you!
For those who love our Microblading Pigments, but want to start practicing Powder Effect, we recommend our Pigment Thinner. Full of skin-loving ingredients like glycerin, Pigment Thinner is colorless. Three to five drops are enough to change our Microblading Pigments from their signature gel consistency to a consistency more suitable for Powder. (One bottle has approximately 70 uses!)
Because of its ability to dilute Pigment's texture, it also lightens the Pigment's color. This is noticeable after healing, and clients may require special attention at their touch-up appointments.
Read more
Comments
✕