Trusted products that improve your natural lashes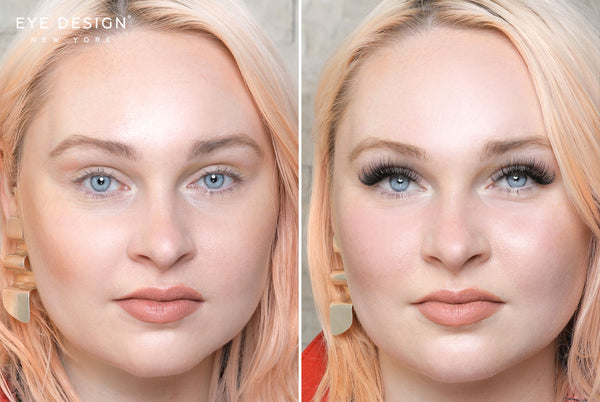 Want to take a guess at the most common question clients have for us?
It's will these extensions damage my own eyelashes?
A natural concern, the possibility of the answer being yes holds countless potential clients back. After all, it seems likely that a procedure aimed at adding volume to your lashes artificially may, in the long run, cause visible damage to the hair that's already there.
But, the short answer is no; our lash extensions won't harm your natural lashes. In fact, our team developed a range of long-lasting products specifically designed for enhancing your natural beauty--not destroying it.
While lash extensions from other studios begin to disappear in only two weeks, many of Eye Design's clients find that they can go four weeks before needing a refill.
Case in point: The Eye Design team was lucky enough to work with a demo model whose only previous experience with eyelash extensions did not go so well. Two weeks after receiving a full set from a hairdresser she'd trusted for years, she noticed the extensions were extremely sparse. Quite shockingly, however, she also noticed that her own lashes seemed more brittle.
After booking her modeling gig with us and coming in the next Wednesday--the day our founder and lead technician Nadia demos on models--she received a full set of lashes that lasted her about six weeks. And by the time she booked an appointment for a new set, she saw a huge improvement in her natural lashes.
Not only did this make the client feel better about the procedure--and the money she was now spending on it--it allowed her to get a fuller set of extensions, considering the extensions themselves need some natural lash to grab onto. The stronger your own lashes are, the fuller the extensions you can get.
One of our most beloved and nourishing products--which this model quickly fell in love with herself--is Eyelash Extensions Cream Remover. We're happy to sure she is now one of our regular clients!
"Choosing the right technician is the most important factor in completely avoiding lash damage," Nadia Afanaseva, Eye Design founder and Master Technician, says.
"Lash damage depends on experience, or lack thereof, of the tech. The tech should know the rules for choosing the proper length, thickness and volume of the lash extensions so that they do not cause any damage."
Lash extensions causing damage to the natural lashes is a myth, Afanaseva continues.
"We use safe, medical-grade glue, and we also track the work of all our technicians."
It is important to track, Afanaseva says, because the mistake can be easy to make, even for an experienced technician. If lash extensions feel uncomfortable or heavy, that is a sign they are causing damage to your natural lashes.
"Lash extensions should feel comfortable from beginning to end. There should never be any heavy feeling."
The heavy feeling, Afanaseva explains, occurs when a tech uses the improper length, thickness or volume, causing the hair follicle to weaken or the natural lash to which it is attached fall out completely.
Unlike gel- or liquid-based removers, its cream texture makes it more easy to control and a more sanitary way to remove eyelash extensions without causing damage to natural eyelashes. This is because it doesn't run into the eyes the way gel or liquid removers do. But for individual lashes--like those hard-to-reach corner lashes--we are proud to offer a thin-consistency Gel Remover that doesn't cause damage to your natural lashes.
Read more
Comments
✕