Eye Design's Eyelash Extension Remover Cream is a must-have
March 16 2018
·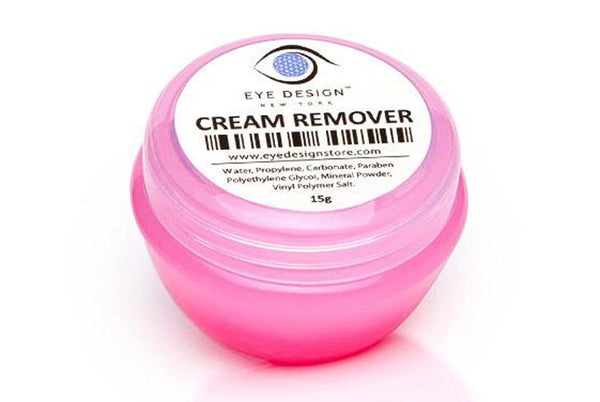 March 16 2018
·
Most mainstream lash extension removers are liquid- or gel-based, and while we happily offer those, too, Eye Design also has an incredibly innovative cream formula!
Among our line of nourishing, good-for-you products, Eyelash Extension Remover Cream stands out--both for its pretty pink packaging and for its unique properties.
Much like the entire range we're proud to offer, this special cream is safe for your natural lashes; we promise it definitely won't harm them in any way. Its thick consistency is non-toxic and dissolves bonds in a matter of seconds, making it one of the safest and easiest eyelash extension remover on the market.
Your clients will be happy, too, because Eyelash Extension Remover Cream's easy-to-control, thick consistency means it won't run into their eyes, unlike liquid and gel removers.
Did we mention it's super user-friendly?
When applied properly, our beloved Remover Cream doesn't cause any irritation or aggravate allergies--even on clients with the most sensitive skin.
Apply it generously without touching the skin--don't forget to cover the lower eyelid with a tissue or eye patch--and wait 5-10 minutes for the adhesive to dissolve completely.
Take it from our community of beauticians, lash artists and clients; Eyelash Extension Remover Cream has received nothing but 5-star reviews on
our shop
!
Eva from Seattle writes, "Forget burning eyes with this remover...No complaints from customers as [was] with the liquid [remover] I used before."
Gabrielle from San Antonio agrees. She adds, "I used many removers in my practice but this one is my favorite. I never had an issue with customer complaining about burning, plus it's easy to work with because of [the] thick consistency."
Destiny from Detroit explains, "In my salon we do not do refills, and I am not comfortable with tweezers [for] lash removal. This product is a lifesaver for someone like me. [It] doesn't run and [it] does the job."
Julie from Boston notes the product's pleasant smell, then tells us, "I'm glad [that] I chose this cream remover; it is much better than gel. I would recommend it to everyone who does eyelashes or [who] needs to remove clusters."
We recommend that our lash extensions clients purchase this product for themselves.
"It is really easy to use, so clients can remove lash extensions themselves if there is an emergency situation," Nadia Afanaseva, Eye Design founder and Master Technician, says.
"This can save you a trip to the salon."
Need to stock up? We've got you covered! Just click here.
Read more
Comments
✕